TILTED ROCKS THE EJ'S TAP HOUSE JULY 9TH, 2022!
PRESS:
TILTED IS JERSEY ROCKS BAND OF THE WEEK FOR WEEK OF 9/1/19!
TILTED FEATURED ON EPISODE 63 OF THE 95.9FM WRAT THE RAT'S JERSEY ROCK PODCAST ON 8/25/19! LISTEN HERE:
STEVIE C. INTERVIEWED BY ANGEL ALAMO FOR BALL-BUSTER MUSIC ON 3/25/19 LINK BELOW:
TILTED FEATURED ON THE JERSEY ROCK WEEKLY PODCAST 11/18/18 WITH TOM HANLEY FROM 95.9 THE RAT WRAT! LISTEN HERE:
TILTED LIVE IN THE STUDIO OF 89.5FM WSOU-SETON HALL'S PIRATE RADIO
PICTURED LEFT TO RIGHT: TOMMY D, WILL, JIMMY M, AND STEVIE C
\
TILTED WAS LIVE IN THE STUDIO AT SETON HALL'S PIRATE RADIO ON THE CAMPUS OF SETON HALL UNIVERSITY FOR AN APRIL 2018 STREET PATROL SEGMENT! ALL 4 TUNES FROM OUR EP WERE PLAYED LIVE AND A LIVE ON THE AIR INTERVIEW!
TILTED IS THE JERSEY ROCK BAND OF THE WEEK!! 95.9 WRAT THE RAT-WEEK OF NOVEMBER 6TH, 2017!
wrat.com/2017/11/05/jersey-rock-band-week-tilted/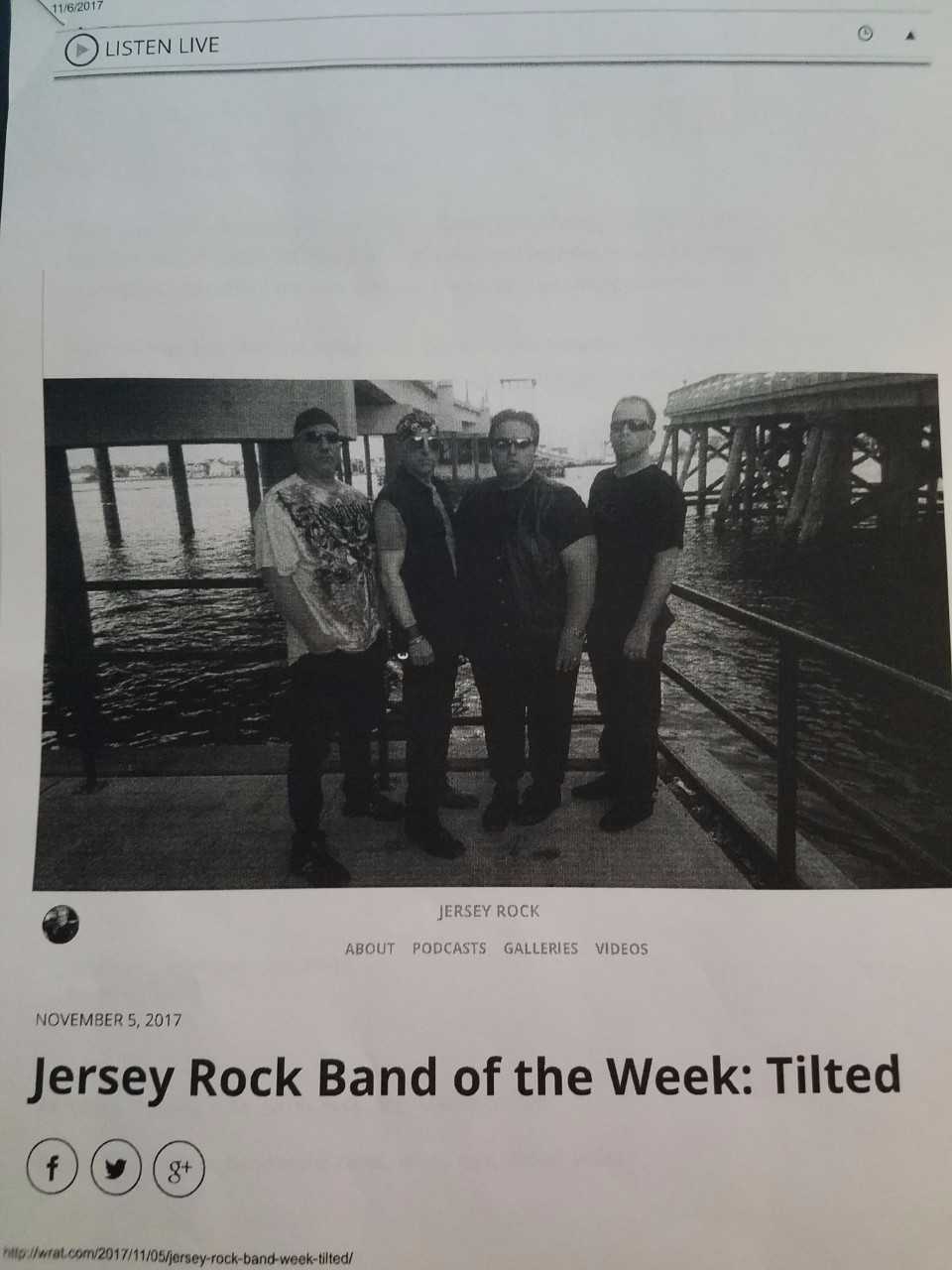 ________________________________________________________________________________________________________
STEVIE C IS INTERVIEWED ON THE JIM SANTORA ROCKCAST ON SH MUSIC MEDIA RADIO STATION. WE TALK ABOUT ALL THINGS TILTED AND OPENING FOR PROPHET AT THE STONE PONY. INTERVIEW STARTS 1HR 48MIN INTO THE ROCKCAST. OUR DEMO SINGLE " ROCK AND ROLL SHOW" IS ALSO PLAYED!!
LISTEN TO INTERVIEW HERE: CUT AND PASTE ON YOUR BROWSER
https://jimsantorashow.podomatic.com/entry/2014-02-21T16_19_32-08_00